Difference between Eye Diagrams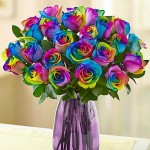 (joined February 2015)
Participant
Hi all,
What is the difference between Digital Modulation – QAM and LED Modulation Response Eye diagram Patterns?
Digital Modulation – QAM link
LED Modulation Response
And in the text book they have given eye diagram pattern with upper and lower bounds to determine the logic '0' and logic '1' levels. Is it possible to set those bounds in BER analyzer in Optisystem?
Thanks in advance
Responses (17):
Login You must be logged in to reply to this topic.