Boston, USA – Omni Parker House
June 28-30, 2015
---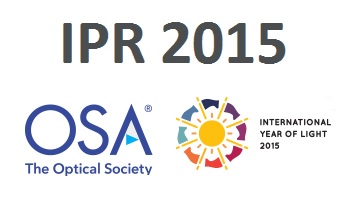 Integrated Photonics Research (IPR) is the premier and longest-running meeting dedicated to groundbreaking advances in research and development of integrated photonic and nano-photonic technologies on all relevant material platforms.
Exhibition Dates

Sunday 28 June
8:30 am to 6:00 pm
Monday 29 June
8:30 am to 5:30 pm
Tuesday 30 June
8:30 am to 6:00 pm
Description

IPR brings together experts from both academia and industry for an open discussion of cutting-edge research, trends and problems. IPR 2015 will broaden the scope of previous IPR meetings by incorporating new sub committees dedicated to emerging areas. Panel and open discussion sessions will also be included to facilitate a forum for free exchange of ideas and related discussion. In addition a special workshop on facilities and foundries for highly integrated photonics will be organized. Topics will include photonic integrated circuit design, technology and applications; physics and technology of on-chip active and passive photonic devices; planar waveguide technology, lightwave circuits and systems-on-the chip; theory, modeling and numerical simulation of waveguide and integrated photonic devices and circuits, as well as various topics of computational photonics. Also, IPR 2015 will continue to cover emerging topics in nano-photonics, new materials for photonics, such as two dimensional materials, epsilon-near-zero materials, integrated photonics for high precision applications such as frequency combs, electro-optic oscillators. There will also be special symposium on integrated quantum photonics, including generation, detection, transport and utilization of photons on the quantum levels.
Application areas within the scope of this meeting are very broad and include, but are not restricted to: optical tele- and data communications; optical interconnects, switching and storage; data and information processing, including integrated quantum circuits; and optical monitoring and sensing, including mid-IR photonics. On the material side, traditional III-V semiconductor photonic devices and integrated circuits; silicon based devices and waveguide circuitry; silica on silicon and polymer photonic lightwave circuits as well as new and emerging material platforms such as graphene, 2D materials, and transparent conducting oxides are all within the scope of IPR.