OptiGrating
OptiGrating uses the Coupled Mode Theory to model the light and enable analysis and synthesis of gratings.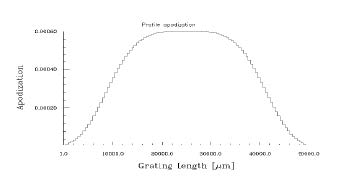 In the first lesson, you will learn how to design a Fiber Bragg Grating with chirp and apodization. Such a grating finds application in fiber dispersion compensation. S.1 The first thing you will do is to open a new project. Then, you will choose one of the five available modules to work with: Single Fiber,…

CIOE: Booth #7H04
June 19, 2018
Established in 1999, CIOE is the largest show of its kind in the world featuring over 3,200 optoelectronic brands and their latest products in the area of 110,000 sqm at the Shenzhen Convention and Exhibition Center.
Evaluations
Get access to all our software tools instantly! No need to speak with a sales representative.