OptiGrating
OptiGrating uses the Coupled Mode Theory to model the light and enable analysis and synthesis of gratings.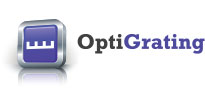 The following is a list of scientific papers, technical journals, periodicals, and conference publications which reference the use of OptiGrating.  These references were collected from internal sources, customer submitted papers, and scientific articles via Google Scholar – and to the best of our knowledge, make use of our OptiGrating software package. If you locate any…

AIM Photonics Members Meeting
November 14, 2018
AIM Photonics is one of a number of Manufacturing Innovation Institutes, an industry-driven public-private partnership that focuses the nation's premiere capabilities and expertise to capture critical global manufacturing leadership in a technology that is both essential to national security and positioned to provide a compelling return-on-investment to the U.S. economy.
Evaluations
Get access to all our software tools instantly! No need to speak with a sales representative.