OptiFDTD strives to provide optical engineers and researchers with the most accurate & easy-to-use tool for the design and analysis of photonic devices. In this release of OptiFDTD we have included a series of enhancements that focus on the user experience and design flow.
These new features include:
*NEW* Upgraded video codecs
*NEW* Multi-tasking of property edits
*NEW* Enhanced scripting capabilities for CAD file import
*NEW* Integration with Optiwave's new Cloud Compute option
This release also includes the latest version of the Optiwave mode solver application, OptiMode 5.2. For more details on OptiMode 5.2 see the "OptiMode Release Notes" document.
NEW FEATURE Upgraded video codecs
With improvements in video technology, OptiFDTD 15 has high quality video codecs available for use when recording simulation results. Videos of the time evolution of fields for arbitrary structures provides resources for research and in-class teaching materials. Available codecs are VP8, VP9, ZLIB, and Theora.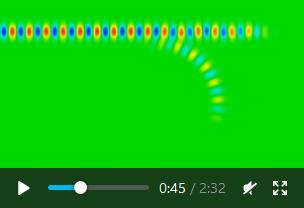 Fig 1: Video of ring resonator
NEW FEATURE Multi-tasking of property edits
OptiFDTD 15 has extended the design workflow based on the internal project browser within OptiFDTD Designer by enabling multiple dialogs for components, materials, or profiles to be simultaneously open. Additionally, property dialogs of linked components, waveguides and profiles have the ability to open corresponding dialogs. These capabilities streamline the overall design workflow.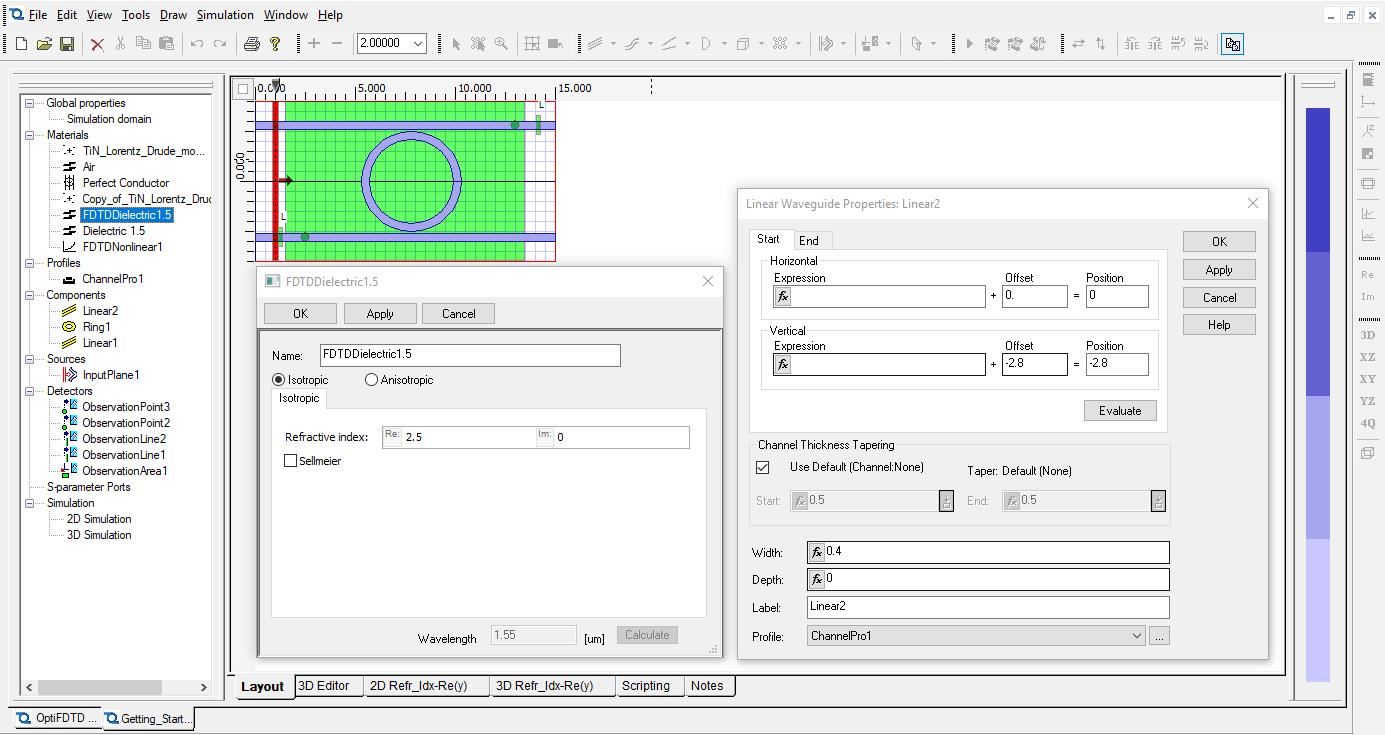 Fig 2: Multi-tasking dialogs
NEW FEATURE Enhanced scripting capabilities for CAD file import
Increasingly complex designs combined with dynamic analysis requires not only the ability to import structures from known standard CAD file formats but OptiFDTD 15 now provides the ability to automate the configuration and import of these files.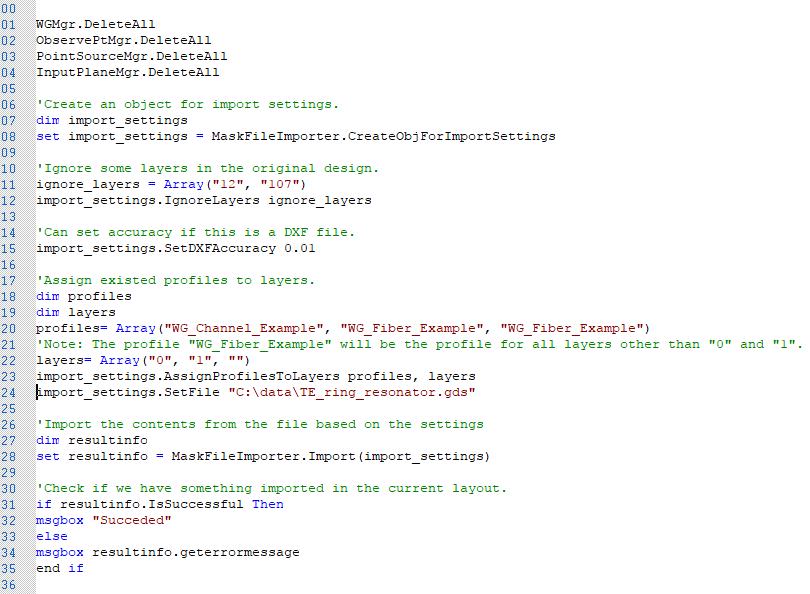 Fig 3: Script example for CAD file import
NEW FEATURE Cloud Compute option
OptiFDTD 15.0+ users will be able to export FDTD designs to Linux files (.fdu) and simulate them using our new Cloud Compute service. There is no need to sign up for an Amazon Web Services (AWS) account, example files will be provided, and full functionality & access will be provided to all interested users.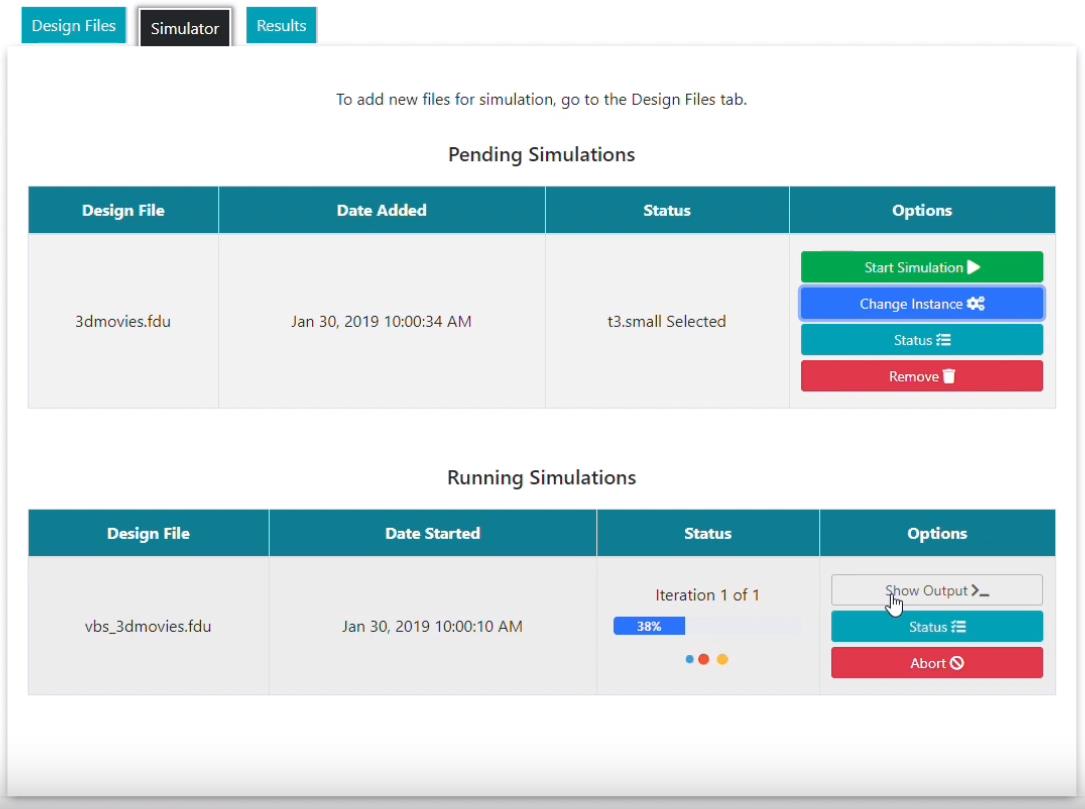 Fig 4: Optiwave's Cloud Compute simulator interface
ENHANCEMENT Optimization of Project Browser Controls
The Project Browser, introduced in OptiFDTD 14, has acquired further controls over the design layout including component deletion and order.
ENHANCEMENT Real time estimate reporting during simulations
The simulation dialog now provides tracking estimates for simulation duration, elapsed time, and time remaining.
ENHANCEMENT Improved user control over accuracy GDS II export
The ability to export structures as GDS II layouts has been upgraded to now provide better accuracy in polygon generation for curved structures.
ENHANCEMENT Optimization of OptiMode Finite-Element Method (FEM) mode solver interface
The interface between the OptiMode FEM mode solver and OptiFDTD has been optimized to improve accuracy with mode injection.
ENHANCEMENT Creation of a viewer for the full Lorentz-Drude Dispersive material
The Lorentz-Drude material now provides users with a plot of the refractive index dispersion based on the model coefficients. The coefficients can be user-generated or automatically generated from experimental data files.
ENHANCEMENT Improved accuracy of the calculation of frequency domain results for observation points
There was an opportunity to improve the accuracy of the reported frequency spectrum calculated from the time domain information reported from observation points during continuous wave simulations.