Shenzhen Convention & Exhibition Center, 4-7 September 2013
---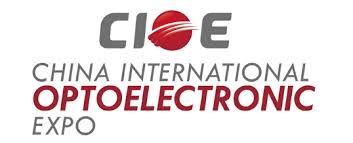 China International Optoelectronic Expo (CIOE) is a world-renowned event, annually presenting the most advanced optoelectronics technologies and innovations. Established in 1999, CIOE now celebrates 15 consecutive years of steady growth, and an exceptionally intimate relationship with the industry and the technical professionals that make it all happen.
CIOE 2013 will be held at the Shenzhen Convention and Exhibition Center with a total area of 100,000 sq. meters, comprised of four concurrent specialized expositions focusing on optical communications and sensors, lasers and infrared applications, precision optics, and LEDs. More than 3,200 optoelectronic enterprises will exhibit products, and an extensive technical conference is offered each of the four days of the event.
In 2013 CIOE will celebrate 15 years of industry contribution with a series of gala events focusing on appreciation and commemoration of industry players and the excellent work done in advancing optoelectronic technology. There will also be special focus on the future. We warmly invite you participate and share with your colleagues in the excitement of these special events.
Available software demonstrations:
About Optical Communications Sub-expo
The Optical Communications Sub-expo of CIOE 2013 has won high concerns and supports from optical communication suppliers, optical device suppliers, system integration suppliers, telecom operators and relevant enterprises. Many Famous brands have already registered for the participation in CIOE 2013. Brand companies, such as JDSU, Mitsubishi Electric, O-NET, NTT-AT, SENKO, ADAMAND, Fiberhome, WTD, Hisense, German Pavilion, Canadian Pavilion & Danish Pavilion will again exhibit at CIOE 2013 to display their latest products& technologies. Optical communications enterprises coming from upstream and downstream industrial chain, will realize more extensive exchange and cooperation through the CIOE platform.
CIOE, combining information & markets, products & technologies, business opportunities and talents, will be regarded deservingly as the best annual approach to the industry development trends.
Generate new sales leads, meet with existing customers, and see the latest technology.